As these fields evolve, market participants must navigate challenges such as stricter regulatory frameworks, data privacy concerns, and reimbursement challenges, while embracing digital transformation and fostering innovation to remain competitive. Conditions in public financing markets remain challenging as investors focus on pathways to profitability. In addition, M&A activity has been limited as consolidators face macroeconomic uncertainty, experience valuation mismatches with seller price expectations, and struggle to find targets that meet their strategic priorities.
Against this backdrop, we fielded our 2023 Medical Devices, Diagnostics and Tools Leaders Study in April and May 2023. This year's study involved the participation of 145 leaders across many of the largest medical devices, diagnostics and tools companies globally, as well as smaller public and private companies, and prominent investment firms.
Our Central Findings:
1. Equity market conditions for medical devices, diagnostics and tools companies are not expected to recover to normalized, sustainable levels before 2024, more likely in the first half. While innovation is expected to remain the same or increase in the next cycle, access to capital is predicted to be lower and confidence in new company formation is mixed.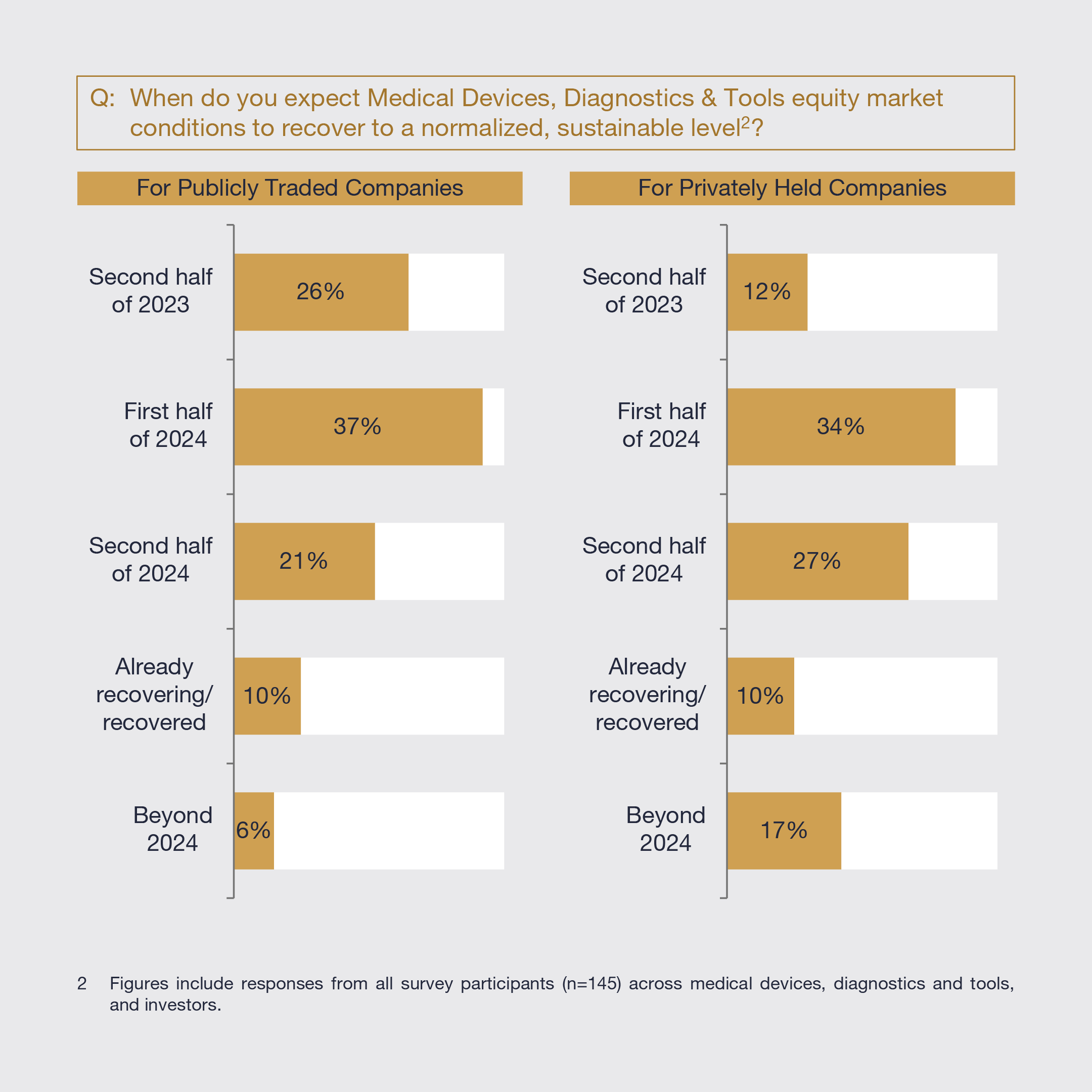 2. Improved medical devices, diagnostics and tools equity market conditions will primarily be driven by an improved macroeconomic outlook, improved investor confidence in the sector's financial outlook, and higher levels of M&A and business development activity. There is continued pessimism about the availability of capital for companies in the second half of 2023.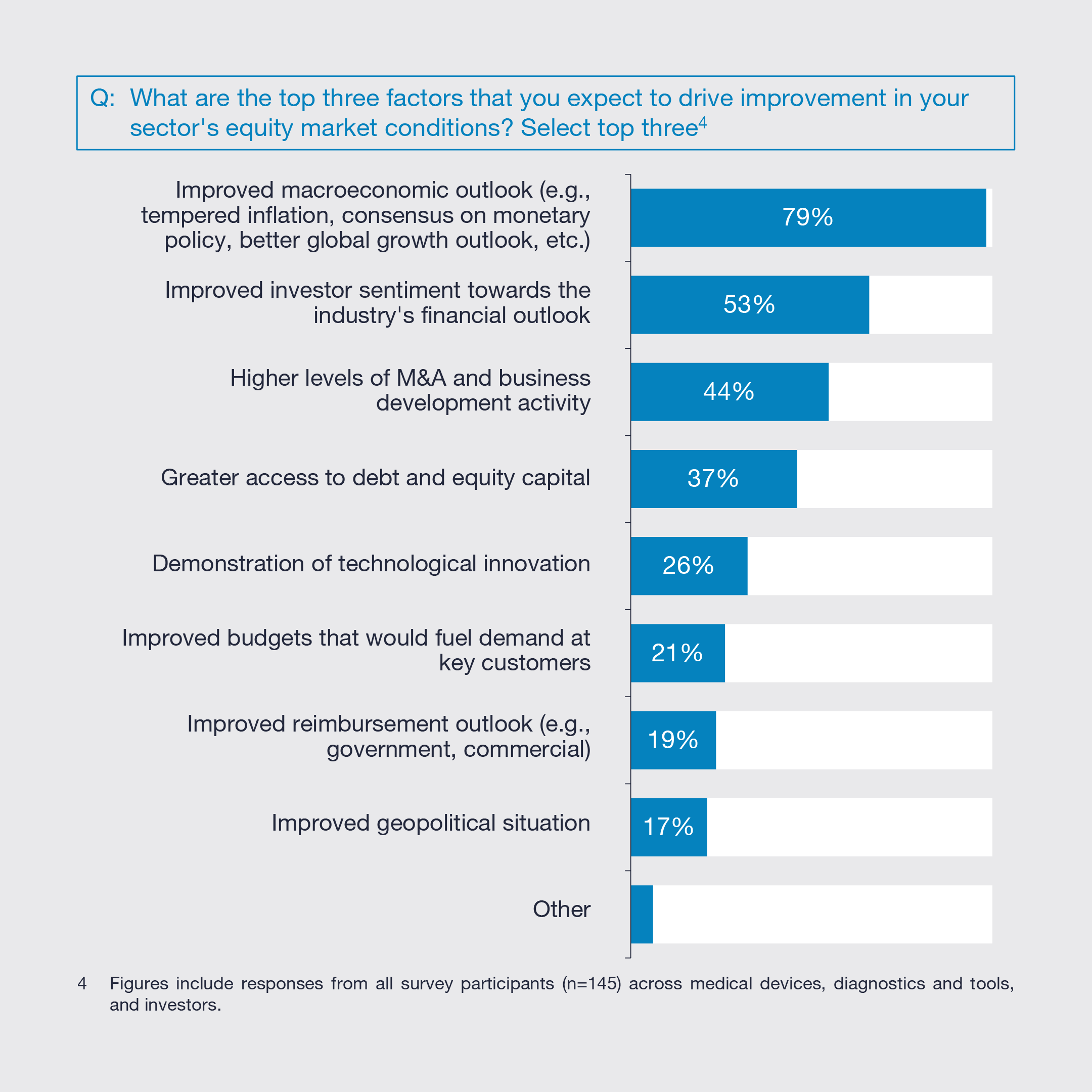 3. While large-cap consolidation is expected to remain at the same relatively low level, bolt-on acquisitions together with partnerships/collaborations are expected to increase. More reasonable seller price expectations, macroeconomic confidence, and the availability of attractive target opportunities will be important catalysts of rising strategic activity.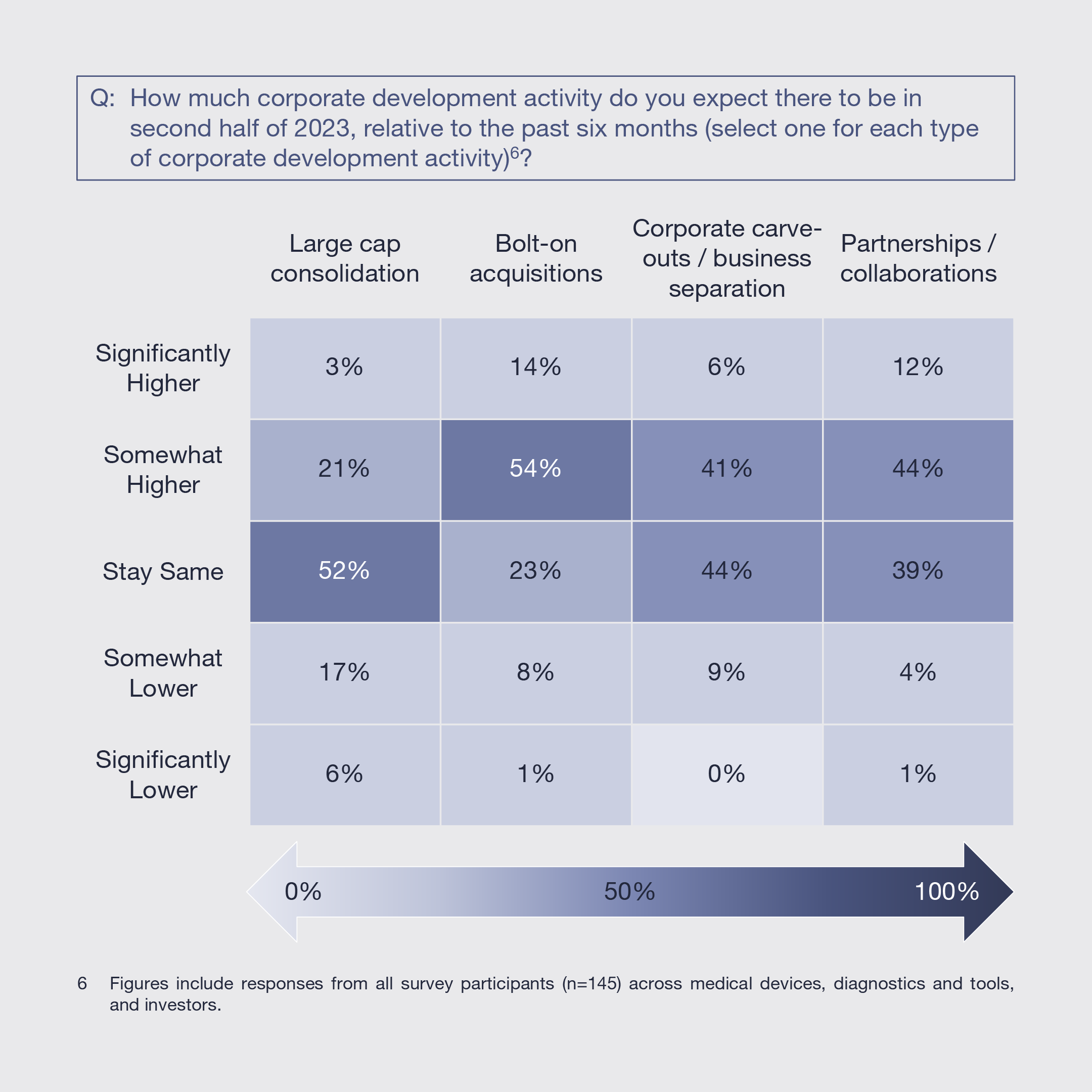 4. As the industry navigates reimbursement challenges and seeks to maintain consistent growth and profitability levels, applications of data analytics, artificial intelligence (AI), and machine learning (ML) are expected to disrupt disease diagnosis across various therapeutic categories, early-detection screening, and diagnostic-imaging and image-guided therapies.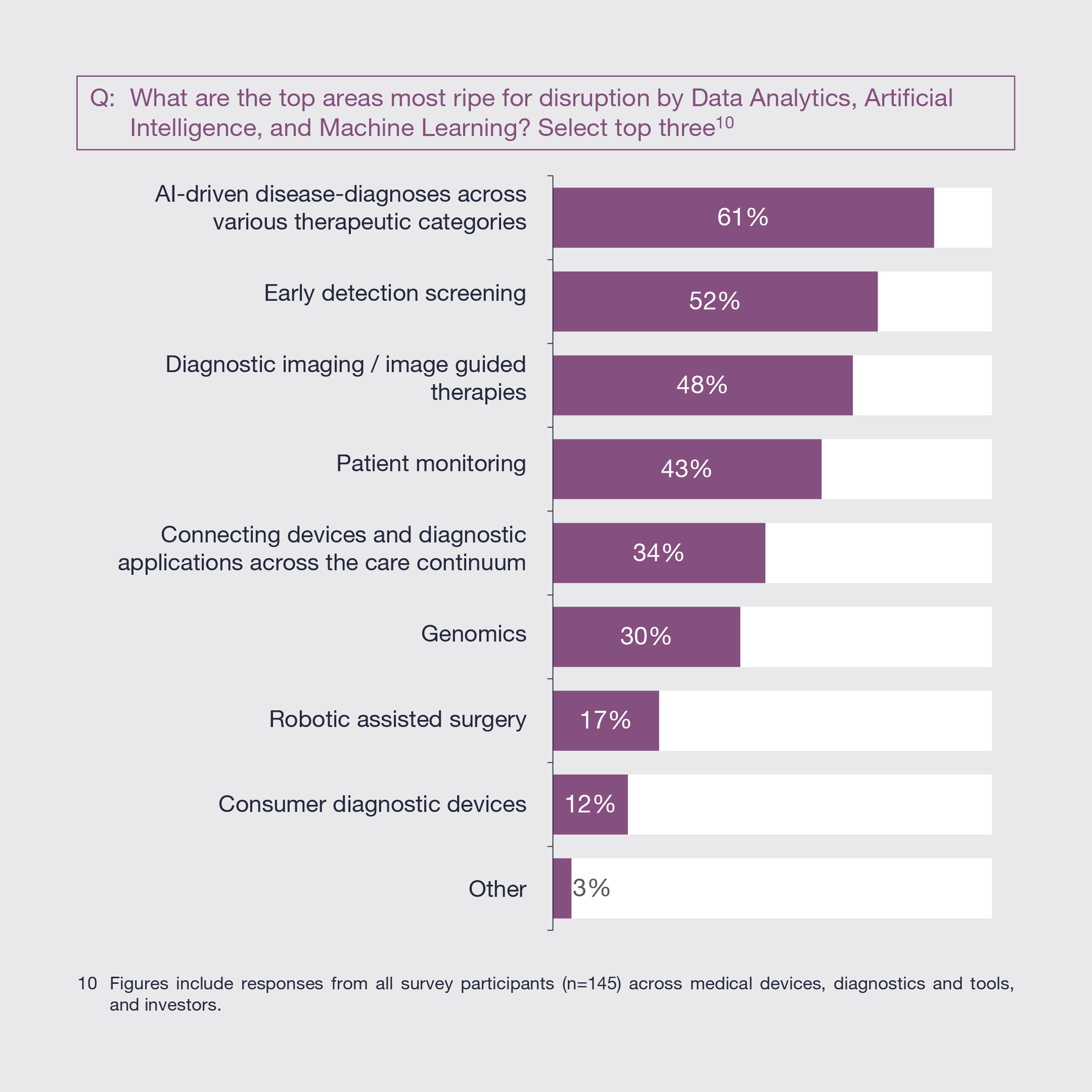 5. The creation of digital/AI-enabled product ecosystems are expected to most transform the medical devices sector over the next ten years, while the adoption of robot-assisted surgery is expected to be the fastest-growing subsector in the next several years.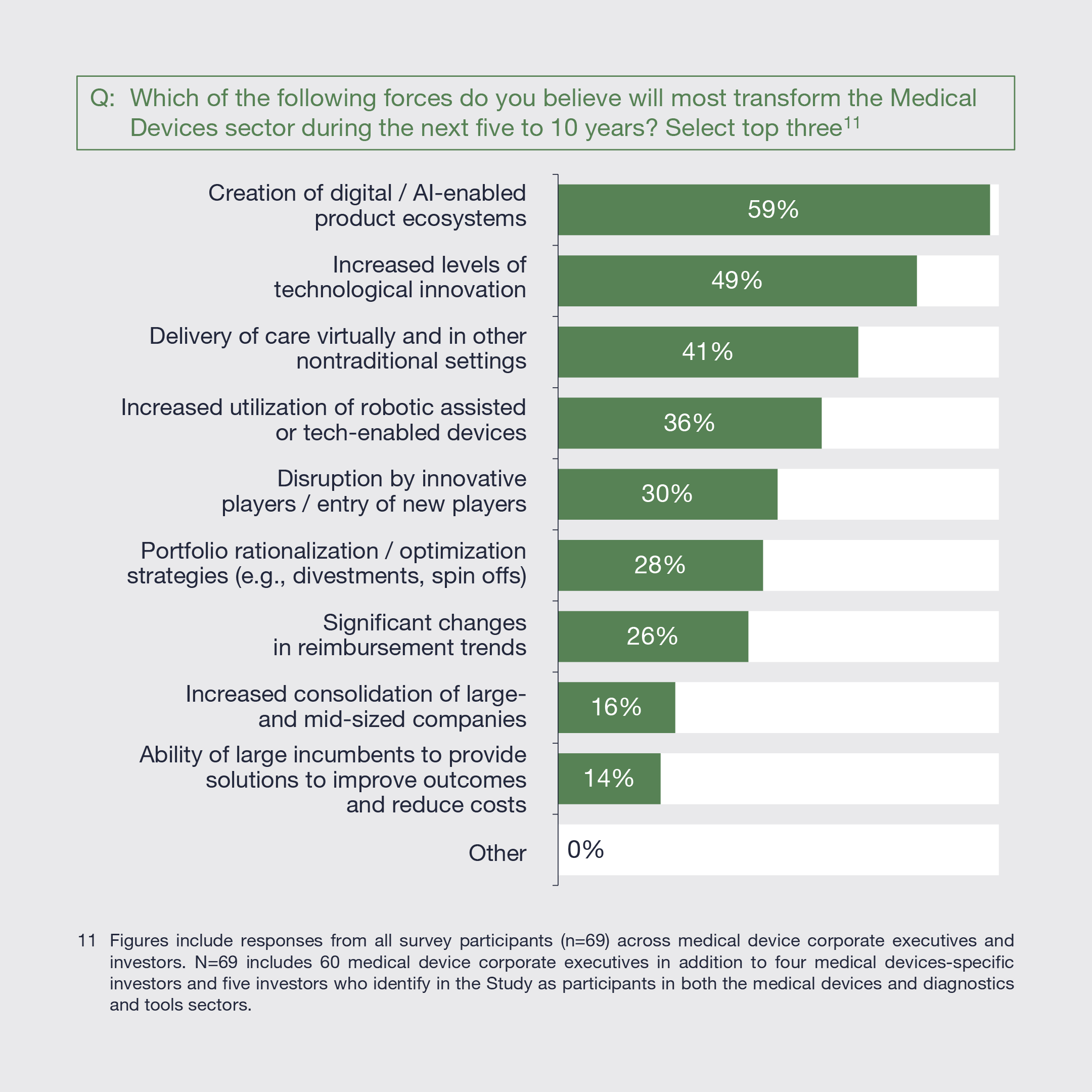 6. Leaders in the diagnostics and tools sector believe disruption by innovative new players, increased use of multi-omic tools, and greater focus on early detection screening will most transform the sector over the next five to 10 years. They are responding by prioritizing liquid biopsy, bioinformatics, and proteomics technologies.